FOUI IN THE AFTERNOON presented by Southside Dodge Chrysler Jeep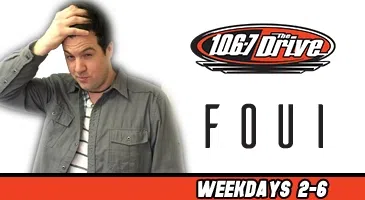 Name: Jason "Foui" In the Afternoon
Occupation: Afternoon Announcer 2pm-6pm Weekdays on 106.7 The Drive
Hello there, it's me, Foui, the other 4-letter F-word you promised you wouldn't say. This is where I tell you a little about myself so here goes…Lemme tell ya, sober, Red Deer's pretty good. Fun fact, I've been at The Drive since it launched in the Fall of '04. In faaaact I've been at The Drive so long there's actually a "Foui" chair which only contours to MY butt. If anyone else tries to sit on it, it pains them. It's like trying on someone else's mouth guard. Anyway, The Drive and I have been inseparable ever since.
Here are a few common questions I receive from time to time.
Question: Foui have you ever been chased by a bear? Answer: No, but I have been chased by a cougar and let me tell you when that happens it's always best to play dead and let it finish doing its thing.
Question: Foui if you HAD to choose your favorite song named "One" who would it be by? Metallica? U2? Creed? Ghostface Killah? Answer: All wrong! The correct answer is Three Dog Night.
Question: Foui what's the absolute most important thing to pack on a first date? Answer: Clean socks. Many a date have been ruined because proper sock care and insight was not taken into consideration.
Question: Foui Where do you like to go in Red Deer, ya know, for a good time? Answer: Well I don't know what kind of "good time" you are referring to but I like to frequent nursing homes. The people are kind, experienced and always warm and welcoming. That or the Blood Donor Clinic or Wendy's, which is just east of the Blood Donor Clinic.
Any other questions chat me up in person or give me a call or text some time. 403-343-7483. Thanks and please keep fit and have fun.